3 X NEW 60L Co2 Gas Cylinder Includes Gas- SODASTREAM compatible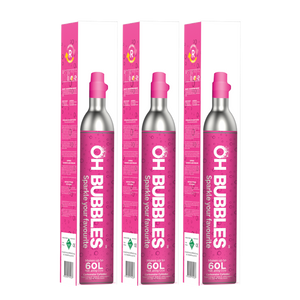 3 X NEW 60L Co2 Gas Cylinder Includes Gas- SODASTREAM compatible
Tax included.
Shipping
calculated at checkout.
Carbonates any beverage, anytime, anywhere you like. Quickly and easily carbonate water, juices, iced tea or coffee, energy drinks, wine, cocktails, and even flat soda or beer. From the kitchen to the campground, the OH-BUBBLES will make any drink you can think of real sparkle. The OH-BUBBLES is a blast to use. So let the fun begin, and sparkle whatever you'd like.
Oh-Bubbles All Natural Soda Syrups start out as 100% italian fruits and pulp and then added with natural Italian distilled water. We combine them to make our syrups and then infuse the essence of locally sourced and organic ingredients that are hand crushed until the flavor profile is just right.
NEW 60L Co2 Gas Cylinder Includes Gas
Each CO2 cylinder from Oh Bubbles is Refilled with 100% natural premium carbonated gas in  Australia. Each Oh Bubbles cylinder saves on average 85 plastic bottles - our environment will thank you! 

100% natural premium carbon dioxide
Up to 60 litres of drinks per filling.
Suitable for all water carbonators
e.g. Oh Bubbles, Soda-Stream and Aarke.