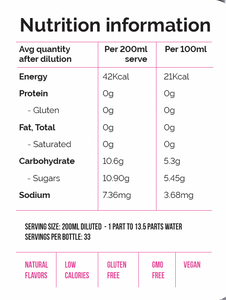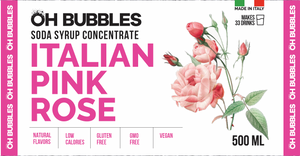 Italian Pink Rose
Tax included.
Shipping
calculated at checkout.
Carbonates any beverage, anytime, anywhere you like. Quickly and easily carbonate water, juices, iced tea or coffee, energy drinks, wine, cocktails, and even flat soda or beer. From the kitchen to the campground, the OH-BUBBLES will make any drink you can think of real sparkle. The OH-BUBBLES is a blast to use. So let the fun begin, and sparkle whatever you'd like.
Oh-Bubbles All Natural Soda Syrups start out as 100% italian fruits and pulp and then added with natural Italian distilled water. We combine them to make our syrups and then infuse the essence of locally sourced and organic ingredients that are hand crushed until the flavor profile is just right.
The Queen Of Flavor, our Italian Pink rose syrup is Elegant and subtle, this queen of flowers is unrivalled in flavour and notoriety. Our Rose syrup, with a rich aromatic flavor, adds a light, floral accent to spring time specialties and romantic cocktails. Italian pink Rose Syrup adds floral beauty to wine spirits, sodas, cocktails and mocktails.